My Holiday Quilt Pattern is HERE for you.
A Holiday Quilt to be made, it's time to start ! Here is my A Holiday Quilt Pattern and I am thrilled to be able to say it's Downloadable at my Etsy Shop and in PRINT on Amazon ! and NOW with PRIME ! !
Holiday Quilt Pattern features TWELVE - Twelve by Twelve Inches quilt pattern blocks and they are made into a 62" x 78" quilt.
This quilt can be done in ANY colors ! How about a dark blue background, white and yellow blocks, let yourself have fun. No matter the colors, it's Holiday Quilt time.
Holiday Quilt in PRINT OR Download at my Etsy Shop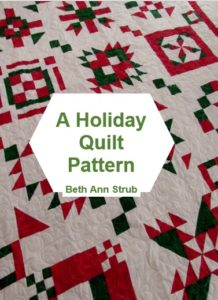 Beth Ann Strub is a Quilter, Quilt Designer, Book Author, Painter, Wife, Mother and Grandma
The Quilt Ladies Quilt Pattern Shop on Etsy
The Quilt Ladies in Print and eBook
Read about ALL my Books in Print
Purchase Now with PRIME - My NOW in PRINT Books
This post may contain affiliate links. I will receive a few cents if you click to the site and purchase
#quilt #quilting #thequiltladies #patchwork #bethanndoing #quilts #needlework



Meet Beth Ann
I'm a Quilter and an Author who decided to self-publish my quilt books and quilt patterns, with that I became a solo-business owner, Strubbie House Publishing. I'm taking my quilts and making a dream into a reality. I love quilts, painting, art, reading, furniture, decorating and The Quilt Ladies, they have changed my life.